The MAP News, 283rd Ed., 18 February 2012
Dear Friends,
This is the 283rd Edition of the Mangrove Action Project News, February 18, 2012.

For the Mangroves,
Alfredo Quarto
Mangrove Action Project
---
Share on Facebook
---
All news items and notices published in the MAP News can also be accessed directly from our home page www.mangroveactionproject.org, with links to the full story and the original source. New items are posted daily and are available as an RSS feed!
---
---
DONATE TO MAP
MAP depends on your support in order to produce this e-bulletin and all that we do. Please visit our website and consider donating to MAP today. It is easy to give a one-time donation, or to set up monthly recurring donations via PayPal or Network for Good!
---
SHRIMP LESS, THINK MORE campaign has changed it's name to QUESTION YOUR SHRIMP:
Learn more about the affects of the shrimp industry on mangroves by visiting our blog.
Join MAP on Facebook
Sign the Consumer's Pledge to avoid imported shrimp
---
Action Alerts:
We don't want your "blood-stained" prawns.
Spanish group warns against social & environmental impacts of farmed prawns. See story in this issue.
Sign The Petition

View Important Video on endangered Swamp Tigers in Sundarban's Mangroves
VIEW VIDEO

Legal Petition to stop the Multi-Billion Lamu Port Project – Sign The Petiton

MAP 2013 Calendar Competition Begins! READ MORE

MAP Calendar Sponsors Wanted – Help support next year's calendar now. READ MORE

"Stop Exploitative Land Transformations in Mozambique (See story in this issue)
SIGN PETITION

VIEW Murder of Mystics Trailer
A 1min 37 sec. trailer of the film "Killing of the Spiritual Tree" i.e. Mangroves of the Indus Delta from Outfield productions. An Outfield productions' film about the "Killing of the Spiritual Tree" i.e. Mangroves of the Indus Delta VIEW TRAILER
New Fact Sheet for Phulbari Coal Project CLICK TO VIEW
---
Support MAP's Efforts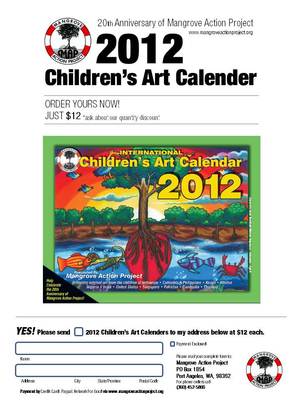 MAP's 2012 Calendar Order Form
Print form and mail in to MAP – Click Here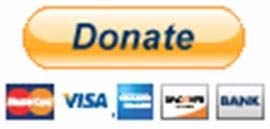 Support MAP through Reading


Purchase a copy of Kennedy Warne's book Let Them Eat Shrimp: The Tragic Disappearance of the Rainforests of the Sea at www.letthemeatshrimp.org. Just add the promo code 5MAP at check-out and you'll receive a 25% discount off the cost of the book plus 10% of the proceeds will go back to the organization to support their efforts to save mangroves. PLEASE PASS THIS INVITATION ON TO YOUR FRIENDS AND COLLEAGUES MORE INFO

Support MAP through Art!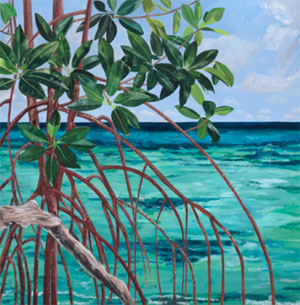 Enma Saiz has released only 50 signed reproductions.
Read More

Own one of these beautiful photos of Karin Wijnand's specially commissioned mangrove sculptures. CLICK HERE for pricing details, then Click here to receive Email Instructions on how to order.

Support MAP through Kayaking!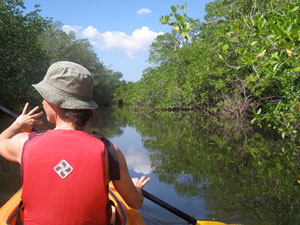 Book your Mangrove Kayak adventure and MAP receives a portion of proceeds to contiue its work!
READ MORE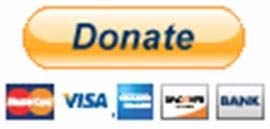 ---
URGENT - VOLUNTEERS NEEDED!

MAP is looking for volunteer interns for its Thailand Headquarters – READ MORE
MAP's VOLUNTEER INTERNS HELP MAP MAKE A BIG DIFFERENCE
READ MORE
Volunteers and/or Part-time Independent Contractors Needed
to help distribute and sell MAP's Children's Mangrove Art Calendars for 2012. Job starts immediately till the end of January, 2012. A 25% Commission for calendar sales that they bring in.
CONTACT MAP
---
MANGROVE ISSUES
"Education In The Mangroves" can now be seen on the PhotoPhilanthropy website here!

Mangrove Rebirth Now on Air! WATCH NOW

Marvellous Mangroves – A Curriculum-Based Teachers Guide.
By Martin A. Keeley, Education Director, Mangrove Action Project
Read this 10 page history of the development of MAP's educational curriculum VIEW DOCUMENT

FOR MORE ON MAPs AWARD WINNING CHINA MANGROVE CURRICULUM VISIT THESE SIGHTS
SLIDE SHOW
VIMEO SHOW

Education In The Mangroves
Six minute video features discussion of Mangrove Action Project's Mangrove Curriculum VIEW THE VIDEO
---
FEATURE STORY
Delight as Irrawaddy Dolphins Discovered in New Indonesian Waters


INDONESIA - Rare Irrawaddy dolphins were found swimming in the waters off West Kalimantan, Borneo, the World Wildlife Fund Indonesia and Indonesian authorities said. Albertus Tjiu, WWF-Indonesia's Conservation Biologist, said the presence of one of two known Irrawaddy dolphin species in West Kalimantan waters was previously unknown. Irrawaddy dolphins are listed as critically endangered in the Mekong River, Cambodia, Ayeyawardi River, Burma and the Mahakam River of East Kalimantan. "So we are excited with the results of this preliminary study and hope this will help to reveal information on the population and distribution of this unique species," said Albertus, one of the lead scientists of the study. READ MORE

Africa

Hundreds of fishers gather for opening of mangrove fishery


MADAGASCAR - The morning of November 11th, 2011, saw the opening of two pioneering community-managed mangrove reserves in western Madagascar. Over 200 fishers attended the opening of the two fishing sites, covering an area of approximately 200 hectares, in order to reap the benefits of a temporary closure that has prohibited all forms of fishing and mangrove cutting for the past 19 weeks. These experimental reserves, a response to growing concern expressed by local fishers over falling numbers of fish and crabs, were a community-managed initiative, led by the local association "Be Andriaky", with technical support provided by British conservation organisation Blue Ventures and Madagascar's national parks service. Increasing production of the economically important mud crab, Scylla serrata, was the primary objective of these 'no-take' reserves, and their closure was designed to coincide with the animal's peak breeding season in the region. READ MORE

Aquaculture Priorities: Expansion in Africa


EDITORS NOTE – MAP does not necessarily subscribe to the opinions expressed in this story and includes it here only for edification of the global awareness of the issues at hand.
NIGERIA - Aquaculture is an important and growing source of protein for many developing nations and a substitute for wild-caught fish whose harvests have often been unsustainable -- to the detriment of consumers relying on production and the species and ecosystems affected. Fish -- both aquaculture and wild-caught -- is particularly important in low-income food deficit countries whose overall consumption of animal protein is comparatively low but whose share of fish in animal protein consumed is high (20.1 percent or more). Two priorities are critical to advancing aquaculture as a global public good: investment in Africa to expand its reach and assuring that aquaculture is environmentally and globally sustainable. READ MORE

Asia

Satellite Image: Loss of Corals, Mangroves and Turtles


The satellite image shows the sea, coral and mangrove beaches of Komodo. This park features some of the world's most diverse coral reefs and is famous for the last remaining habitat of the world's largest lizard, the Komodo dragon (Varanus komodoensis), which exists nowhere else in the world. Increased CO2 concentrations in the sea and higher sea surface temperature threaten the existence of the coral reefs. Meanwhile, sea-level rise is endangering the conservation of mangrove forests in the park and threatening turtle-nesting beaches. The warmer environment is also affecting the sea turtles, since the incubation temperature of eggs co-determines the sex of hatchlings, with higher temperatures causing a predominance of female hatchlings. While more females may enhance the fertility of the sea turtle population, this effect may be nullified by the loss of nesting beaches. READ MORE

Shrimp injected with chemicals
CHINA - Experts say that some shrimp originating in Tianjin have been injected with gelatin-like chemicals to make them heavier and plumper, posing a threat to public health. The transparent chemical can usually be found in the heads of the shrimp. A local wholesaler, who declined to reveal his name, told Xinhua that the altered shrimp were frozen, and the gelatin-like chemical was injected to increase the weight. "The frozen shrimp tend to shrivel after being taken out of the freezer, so lots of shrimp are injected with gelatin-like chemicals in the head and torso," he said. Wang Shuo, vice president of the Tianjin University of Science and Technology, told the Global Times that if it is confirmed the chemical is a gelatin, it may be harmful to people's health. "There are two kinds of gelatin. One is edible, and used as a food additive. The other is used in industrial products, which contains a certain amount of heavy metal, and thus poses a health threat," Wang said. READ MORE

HC asks govt to save agri-farm, forest lands
Bangladesh - The High Court yesterday declared illegal harnessing salt water in the agricultural and forest lands for shrimp farming. It directed the government to take effective steps to sustain the fertility of land and save the environment. Delivering its verdict on a writ petition, the court ordered the authorities concerned to formulate a policy within three months to determine separate land for shrimp farming to ensure salt water cannot flow to nearby areas. It also asked the government to ensure minimum use of salt water in shrimp farming so that the fertility of the nearby agricultural and forest lands is not damaged. Citing a decision of the Indian Supreme Court, the HC said damaging the fertility of land is against the national interest. The HC bench of Justice AHM Shamsuddin Choudhury Manik and Justice Jahangir Hossain Selim came up with the verdict after hearing a writ petition jointly filed by Bangladesh Environmental Lawyers Association (Bela) and Nijera Kori -- two rights organisations. READ MORE

Fishermen to launch campaign against dams on River Indus
INDIA - A group of fishermen have announced initiating a campaign against the construction of the Bhasha Dam, which will begin on International Day of Actions for Rivers on March 14. At a meeting of the Pakistan Fisherfolk Forum (PFF) held on Sunday evening, activists from Sindh, Balochistan, Punjab and Khyber Pakhtunkhwa were asked to mobilise the people of their communities, especially fishermen, herdsmen and farmers. "If the river is allowed to flow without disruption from dams, the people will live a happy life. Natural disasters have already wrecked havoc on these people, especially those living in the tail-end areas," Shah said. READ MORE

Whiteleg shrimp culture to come under scanner
INDIA – The Coastal Aquaculture Authority (CAA), which is responsible for regulating activities connected with aquaculture in coastal areas, is going to clamp down on the illegal culture of the whiteleg shrimp (Litopenaeus vannamei). The authority is also going to take steps to shut down shrimp hatcheries and farms that are unregistered. Even registered farms and hatcheries that are culturing and breeding whiteleg shrimp without the approval of the CAA will be shut down. Out of 14,549 CAA registered farms in the State only 246 have permission to cultivate whiteleg shrimp. Action will be initiated against hatcheries using banned antibiotics as reported by the Marine Products Export Development Authority (MPEDA). The whiteleg shrimp also known as the Pacific White Shrimp is a prawn of eastern Pacific Ocean. READ MORE

Indian shrimp may get out of US anti-dumping duty net
INDIA - Indian shrimp exporters to the US are hoping to get out of the anti-dumping duty net. In a notification dated February 14, the International Trade Administration coming under the US Department of Commerce said that they will be doing away with zeroing methodology on imports. This, the Seafood Exporters Association of India (SEAI) said, could be first step in getting out of the US anti-dumping duty for Indian shrimp exports. The US Department of Commerce's move comes in the wake of several adverse rulings from the World Trade Organisation. Countries including Argentina, Brazil, Canada, Ecuador, EU, Japan, Mexico, South Korea and Thailand had taken the process of zeroing to the WTO and were relieved of the need to pay anti-dumping duty for their exports to the US. The Government of India was yet to take the issue to the WTO and Indian shrimp exporters had been paying anti-dumping duties on their shrimp consignments all this while, SEAI sources said. READ MORE

Marine Life Decline Costs $3.5B
PHILIPPINES - The Philippines must now aggressively arrest marine degradation so as to sustain $3.5 billion economic value annually, or it will spend for a more costly restoration of degraded biological reef while losing its benefits. The country derives an economic benefit of $1.35 billion from fisheries, tourism, and coastal protection in coral reefs; $84 million from fishery and wood harvest in mangroves; $1.25 billion from municipal and commercial fisheries; and $830 million from aquaculture. This is based on White and Cruz Trinidad 1998 study as reported by Department of Environment and Natural Resources-Parks and Wildlife Bureau's (DENR-PAWB) Theresa Mundita S. Lim in a briefing paper at the United Nations Environment Program's (UNEP) Land Ocean Connection Global Conference. As fish catch has been consistently dropping since the 1980s arising from destructive human activities, a massive die-off of coral reefs will happen, much as how this is the trend globally. READ MORE

EUROPE

Spanish NGOs launch campaign against "blood-stained" prawns
The Spanish NGO confederation "Ecologistas en Acción" is calling for the trade in "blood-stained" prawns to be halted. Spain, France and Italy are the major European importers of prawns farmed in the tropics – which, according to Ecologistas en Acción, is an unsustainable industry that causes poverty and armed conflicts. Farmed prawns have become the most important product by value in international fish trade, but this trade brings no benefits whatsoever to local communities in areas where industrial aquaculture has been developed. On the contrary, it has plunged these populations into poverty, and there is considerable evidence to show that it has caused human rights to be seriously and repeatedly violated. SIGN THE PETITION

North America

Scientists Measure Carbon And Mercury Coming Out Of South Florida Mangroves
Editor's Note: We at MAP need to emphasize that the pollution being spotlighted in this article originates from upland pollutions flowing into the mangroves, not emanating from the mangroves themselves. These are most likely contaminants from not only coal fired power plants, but also from agricultural pesticide and fertilizer runoff. The way to resolve this problem must involcve reducing pollution from these original sources.
USA - For the first time, scientists have measured the amount of dissolved organic carbon and mercury moving from a southwest Florida mangrove swamp via tides to coastal waters. The scientists from the U.S. Geological Survey discovered that a large amount of mercury and methylmercury–the form of mercury that is most toxic and the form that accumulates in fish–flows from mangroves into the Gulf of Mexico. According to the South Florida Water Management District, over 50 species of fish in Florida's coastal waters have elevated concentrations of mercury, and human health advisories regarding consumption have been issued by the Florida Department of Health for several fish species in Florida coastal marine areas. A greater understanding of the sources and environmental pathways resulting in these elevated methylmercury concentrations in fish will help environmental managers, policy makers, and regulators lower human and wildlife mercury exposure. "Previous USGS research has revealed that these swamps transform mercury to its toxic methylmercury form far from the coal-burning plants that are the original source of the pollution," said USGS Director Marcia McNutt. "Now we are learning that the threat to wildlife and human health does not stop there, but is carried out to sea on the ebb tide." READ MORE

Challenging the "man" in mangroves: the missing role of women in mangrove conservation
USA - Mangroves provide valuable ecosystem services including carbon sequestration, pollution filtration, and protection from tsunamis, tropical storms, and coastal erosion. They also supply coastal communities with important natural resources like firewood, medicine, timber, honey, and fodder for livestock. Unfortunately, the world's mangroves are rapidly degrading due to rising coastal population, climate change, and destruction for coastal development, agriculture, and aquaculture. Considering their value for the environment and coastal communities, mangrove conservation should become a priority and effort must be invested to find new and successful methods for conserving mangrove ecosystems. As it has proven effective in other conservation contexts, a gendered perspective on mangrove conservation should be adopted. Through review and synthesis of existing literature on gender and mangrove conservation, this paper will show the extent to which gender analysis has been used to examine mangrove conservation and coastal resource management. READ MORE VIEW TABLES USED IN THIS REPORT HERE

Way Beyond Greenwashing: Have Corporations Captured Big Conservation?


Editor's Note: This attached article is quite interesting and relevant to our work! The author also recognizes our work against WWFs certification of farmed shrimp and salmon! It is very timely to read this now!
USA - Imagine an international mega-deal. The global organic food industry agrees to support international agribusiness in clearing as much tropical rainforest as they want for farming. In return, agribusiness agrees to farm the now-deforested land using organic methods, and the organic industry encourages its supporters to buy the resulting timber and food under the newly devised "Rainforest Plus" label. There would surely be an international outcry. Virtually unnoticed, however, even by their own membership, the world's biggest wildlife conservation groups have agreed exactly to such a scenario, only in reverse. Led by the World Wide Fund for Nature (WWF), many of the biggest conservation nonprofits including Conservation International and the Nature Conservancy have already agreed to a series of global bargains with international agribusiness. In exchange for vague promises of habitat protection, sustainability and social justice, these conservation groups are offering to greenwash industrial commodity agriculture. READ MORE

South America

Wapichan people showcase proposal to save tropical forests on traditional lands
GUYANA – The indigenous Wapichan people of Guyana, South America, made public a locally-made digital map of their traditional territory alongside a ground-breaking community proposal to care for 1.4 million ha of pristine rainforest for the benefit of their communities and the world. The territory's rich variety of rainforests, mountains, wetlands, savannah grasslands and tropical woodlands are the homeland of 20 communities, who make a living from small-scale farming, hunting, fishing and gathering, which they have practised over the whole area for generations. The same area, located in the South Rupununi District, south-west Guyana, has an outstanding abundance of wildlife, including endangered species such as giant river otters, jaguars, and rare bush dogs as well as endemic species of fish and birds, like the Rio Branco Antbird. READ MORE

LAST WORD
Dear Wildlife Friends and Colleagues:
Greetings! Conserving endangered vertebrate species in fragmented tropical ecosystems in South Asia never become as urgent as it is now. This remain paramount important for charismatic species as such Bengal tigers in Bangladesh and other South Asian nations. Please follow the link below to the latest issue of 'Conservation Review' with my paper on 'GIS based tiger conservation approach' and other important research notes surrounding South Asian landscape. Hope you would enjoy it and feel free to circulate the magazine to your respective network members.
M. Ashraf
Research Biologist
VIEW PAPER

~ If you'd like to have the last word on this or any other mangrove related topic, please send us your submission for upcoming newsletters. We'll choose one per issue to have "the last word". While we can't promise to publish everyone's letter, we do encourage anyone to post comments on our Blog at www. mangroveactionproject.blogspot.com





---
Not yet a subscriber?
Click here to subscribe.
Please pass these news alerts/ action alerts on to your own lists and contacts. Help us spread the word and further generate letters of concern, as this can make a big difference in helping to halt a wrongdoing or encourage correct action.
Share on Facebook