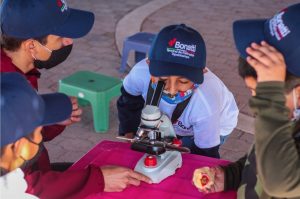 In 2001 MAP created a science-based environmental education program, Marvellous Mangroves. This year, in the midst of COVID-19, Mexico adopted the program in partnership with Restauracion Conservacion Ambiental (RECAMB). RECAMB is using science-based education programs like Marvellous Mangroves, to help younger generations see the ecological value and importance of wetlands, and actively work to conserve them in the growing movement of port industrialization.
MAP's education director Martin Keeley, worked closely with RECAMB's executive director Maraiana Lazcano-Ferrat and her team to translate Marvellous Mangroves into Spanish and adapt it to use in their program. This effort was funded by Bonanatti, a specialty port construction company. The program started with a week-long environmental education workshop which had 108 participants ranging in ages from 6 to 19 who live around the Topolobampo port in small fishing communities. The students created logbooks, used microscopes provided by MAP to investigate feathers, played science-based games, learned about services provided by wetlands, and kayaked through mangroves observing and recording flora and fauna.
Lazcano-Ferrat and RECAMB want the youth to recognize the value of their surroundings, and look for future options in community and ecosystem management that will protect wetlands from industrialization. Mexico is the 16th country to induct the Marvellous Mangroves program and Martin Keeley was delighted to work with RECAMB to get another community exposed to the importance of preserving mangroves.
Click here to learn more about MAP's 'Marvellous Mangroves' curriculum and bringing it to your region.