In early 2022, MAP teamed up with the U.S. Forest Service International Programs to run an online mangrove restoration workshop. Consisting of 45 participants from 13 countries in Latin America and the Caribbean, the workshop ran for one week and was designed to help the implementation of mangrove restoration across the region. The workshop focused on a variety of topics ranging from mangrove ecology and the ecosystem services they provide, to an overview of restoration techniques and how to implement them.
The U.S. Forest Service International Programs promotes sustainable forest management and biodiversity conservation internationally. By linking the skills of U.S. Forest Service technical experts with partners overseas, the agency can address the world's most critical forestry issues and concerns. The programs promote community co-management of forests to improve local economic opportunities, food security, water conservation and carbon sequestration.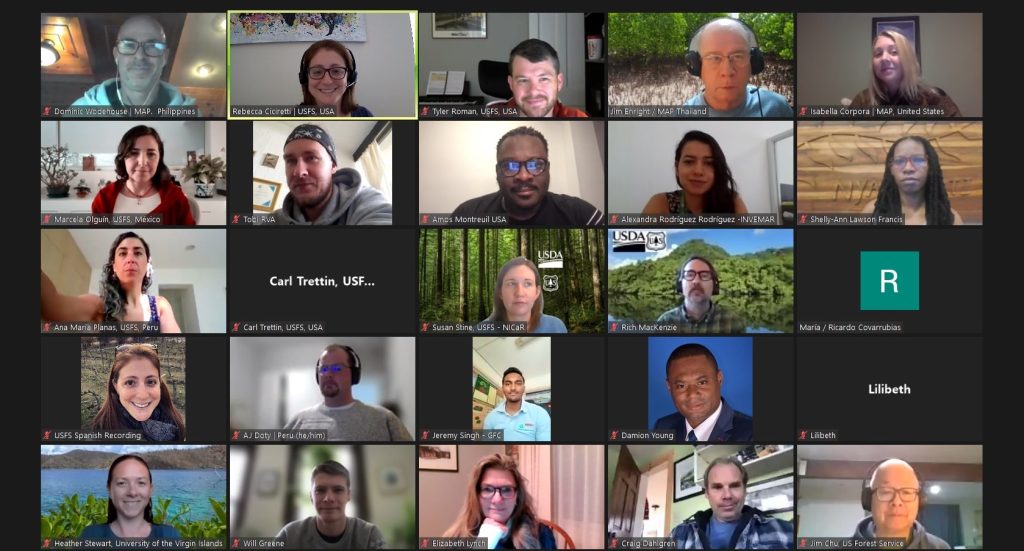 Though mangroves have gained a newfound spotlight in the global conservation movement over the past decade, many attempts to restore these valuable but heavily degraded ecosystems fail, largely due to a lack of understanding of underlying ecological and social pressures. Unlike terrestrial forestry, mangrove planting initiatives around the globe have met an unfortunately high rate of failure. In response MAP developed the 'Community-Based Ecological Mangrove Restoration' CBEMR methodology, which promotes the facilitation of natural regeneration – the philosophy that if the underlying ecological and social pressures of degraded mangrove areas are addressed, the forest will return under its own capacity. There are numerous benefits to this approach, including a more biodiverse mangrove forest and a more holistic solution that includes all interested parties in the process – from governments and NGOs to local communities.
While MAP usually runs CBEMR training workshops in person, the move to online training has created the possibility to include participants from multiple locations simultaneously. A welcome addition sees large numbers of people being able to join from different countries with little carbon emissions and without the expense and time spent travelling. Since the workshop, participants have said that the knowledge gained will impact and improve their future mangrove projects. MAP hopes to continue working with the U.S. Forest Service International Programs to further their crucial work on mangrove restoration around the world