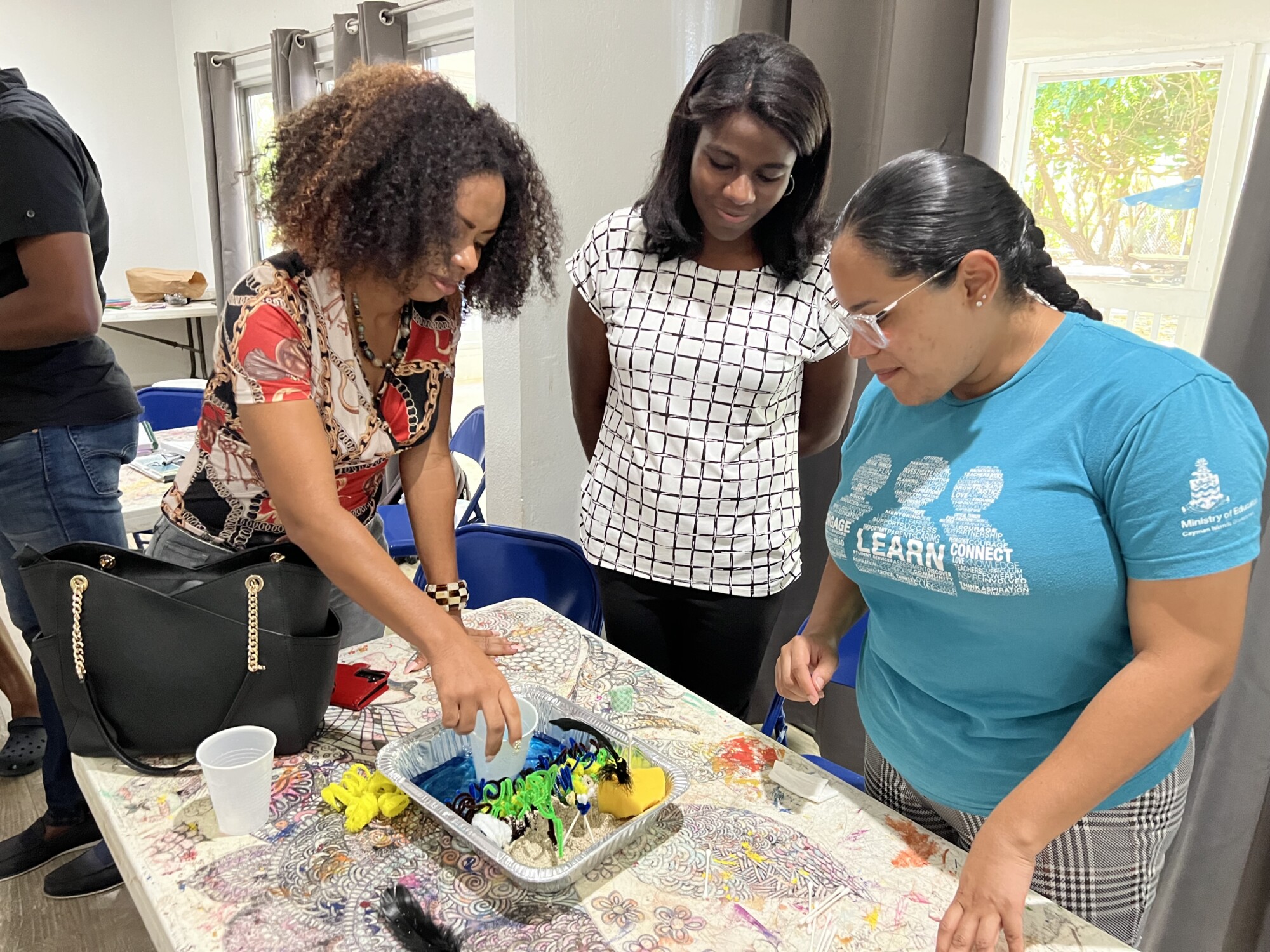 Blog
MAP is excited to announce the launch of the new Coastal Lagoon Education Guide
The Mangrove Education Project (MEP) launched its new curriculum of the Cayman Islands Coastal Education Guide (CEG) at a Cayman teachers' workshop on 27 March.
Some 20 teachers from Edna Moyle and Theoline L McCoy primary schools attended the workshop as part of their March Professional Development (PD) day. Held at the National Trust's Clubhouse, the workshop featured the 200-page guide which covers the interrelated coastal lagoon ecosystems of mangroves, seagrass and reefs, several hands-on activities, and an introduction to the CLE's new website. The website carries an extensive inventory of teaching resources ranging from the CLE Guide itself, the original Marvellous Mangroves guide and PowerPoints to background resources including in-depth studies and a series of specially made "how to" videos with simple instructions on carrying out activities.
Two more PD workshops are planned for April 18th & 20th from 3.30pm – 5.00pm at the NT Clubhouse.
"The CLE website – https://www.coastallagoon.org – enhances the curriculum and teaching efficacy and will monitor the children's uptake of the material. The site is constantly being updated," explains MEP executive director, Martin Keeley. "Plans are underway to also add monitoring and evaluation links of the educational curriculum.
"All teachers have to do is register on-line for access to the materials," Keeley adds. "Each participating teacher was given a copy of the coastal lagoon guide and walked through the different methods of interlinking its materials with the website."
Prior to publication of the guide and website, work with individual classes and schools has been carried out by the MEP's Mangrove Rangers, says rangers Education Manager Cassandra MacDowell. "The rangers help with CEG teaching, field activities and filming of activities, ensuring all activity is well documented and illustrated. This activity will continue to support future teacher classroom requirements."
Field trips to complement the guide and website are available to any teacher who wishes to explore the coastal lagoon ecosystem first hand, whether it be mangroves, seagrass or reefs, says MacDowell. "We have already run trips on both Grand Cayman and the Brac and are happy to organize and run them for any teacher that is interested. Just contact us at [email protected], or call 345-926-8621."
Related posts
Read more about MAP in the Bahamas

Blog

MAP in the Bahamas

The MAP team have recently been to the Bahamas to teach two mangrove restoration workshops. The first workshop was on…

Read more about MAP in El Salvador

Blog

MAP in El Salvador

Earlier this year, the MAP team visited the Bay of Jiquilisco to follow-up on some mangrove restoration training they provided…

Read more about MAP turns 30

Blog

MAP turns 30

Meet Some of the Map Team as we Celebrate our 30th Anniversary HESPER KOHLER Development Associate Tell us a little…