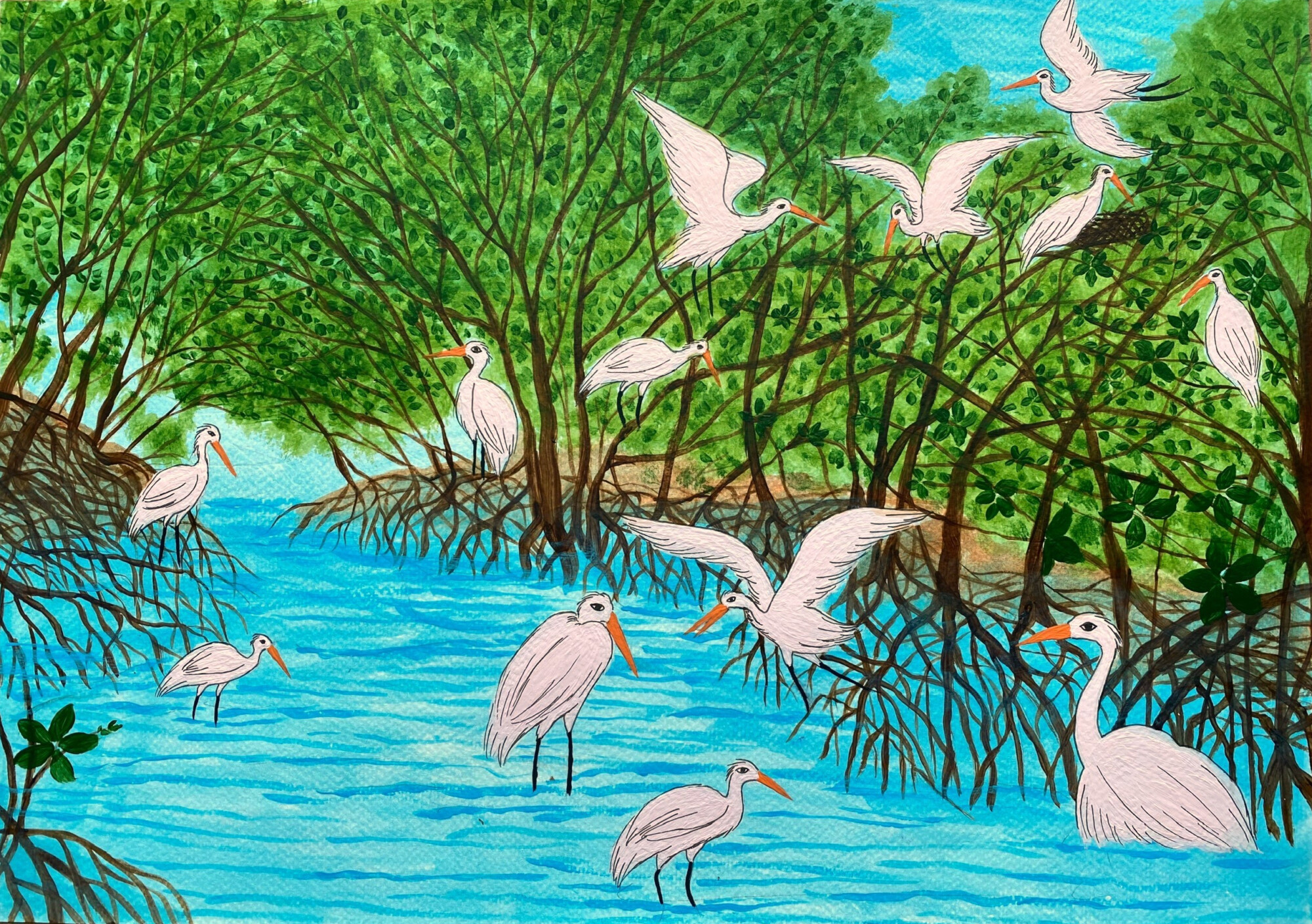 Contest
Winning Works for 2023 Mangrove Art Contest Revealed
Colorful artworks celebrate the vital role mangroves play in supporting people and marine life. 
We're excited to announce the winners for this year's Mangrove Art Contest, an annual competition combining creativity and education to foster a life-long love of mangrove forests.
After 22 years, the contest is as engaging as ever, with this year's edition seeing a record-breaking 245 entries from students aged seven to sixteen. Young artists from all over the world took on the challenge of creating colorful works that encapsulate the vital role mangroves play in coastal communities.
"It was a very difficult task to select the winners because we received such beautiful artwork from around the world. We are very impressed with the talent of these young artists and feel privileged to present this to the public to enjoy and inspire to protect mangroves" said Monica Gutierrez-Quarto, coordinator of the art contest.
Now in its 22nd edition, the Mangrove Art Contest aims to engage the next generation of decision-makers by teaching them the value of the natural world in a fun and creative way. We're thrilled by the increasing number of youth, families, schools, teachers, and community groups around the world that take part in our campaign every year.
We hope you enjoy exploring the winning artworks as much as we loved receiving them. Show your support by purchasing a calendar today. Don't forget to sign up to our newsletter for the latest updates and announcements ahead of next year's contest.
Above you can see the brilliant winning image by Nguyen Ngoc Minh Khang, Age 10, from Vietnam
This years 12 other winners are:
Ridha Zaman, Age 15, from the USA
Dana Han, Age 10, from Australia
Csenge Pop, Age 12, from Romania
Andre sian, Age 12, from Brasil
Hon Jiyoo, Age 9, from Korea
Shinyoung Park, Age 16, from the UAE
Sophia Zara Bt Mustaffa Kamal, Age 13, from Malaysia
Tiara Ghosh, Age 8, from India
Tzu Wei Huang, Age 12, from Taiwan
Yanjun Mao, Age 15, from China
Youngwon Shin, Age 9, from Singapore
Zayda Cole Aziz, Age 15, from the UK