New video "Restoring the Natural Mangrove Forest" launches on International Day of Forests.
MAP has a unique approach to restoring mangrove forests; by encouraging natural regeneration (ecological mangrove restoration), and by collaborating with coastal communities (community-based restoration). This results in bringing back the mangroves as close to the original forest that was previously destroyed, while the community learn to sustainably monitor and manage their forests into the future.
More details on CBEMR and the project below video.
Coastal communities are intrinsically connected to the sea. Their lives depend on it. A key to happiness and life in tropical regions is a healthy mangrove forest.
We are now recognizing that a world without the rainforests by the sea, wouldn't just mean a dismal scenario for coastal communities, but would ultimately affect us all, and our planet. With the ability to store vast amounts of carbon, mangrove forests are key to tackling climate change, but they are under threat worldwide.
The film takes us to the Andaman Coast in Southern Thailand, and explores the importance of mangrove forests and looks at MAP's methods to mangrove restoration. Much like the rest of Thailand, huge areas of mangroves were cut down during the 80s and 90s to make way for shrimp farms. And as mangrove destruction continues globally at nearly 1% annually, more ambitious attempts are being made to restore these carbon-rich forests.
CBEMR Program supported by Synchronicity Earth, LUSH Foundation, and Global Greengrant Fund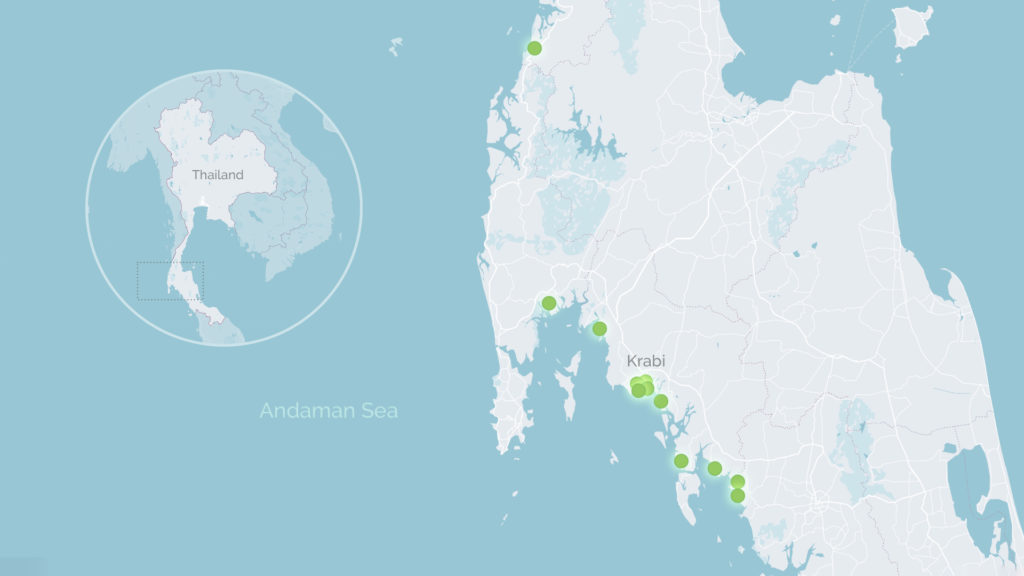 Mangrove Restoration project locations in Thailand
The benefits of ecological mangrove restoration over hand-planted mangrove plantations include…
Higher survival and success rates
Higher variety of flora species (that results in a higher biodiversity of fauna)
Better forest resilience
Species establish in their correct zones
Increases interconnections with other life forms and ecosystems
More goods for local people
The benefits of community-based restoration over hand-planted mangrove plantations include…
Empowered communities
Higher success rate due to monitoring and evaluation
Education, resulting in less pressure on existing mangrove forests
Alternative sustainable income such as eco-tourism for local communities
Addresses socio-economic issues
Find out more about the Nai Nang Apiculture project – https://mangroveactionproject.org/portfolio/nai-nang/
Thailand CBEMR Training workshop – https://mangroveactionproject.org/portfolio/cbemr-training-mangrove-restoration-2/