The Children's Mangrove Calendar connects children from all corners of the Earth to mangrove forests, through an educational and creative competition. It is an opportunity for the younger generation to feel a connection with the natural world and to learn about the vital role mangroves play, to both communities, and our environment.
This year's competition, our 20th, saw a necessary adaptation to the rules and outreach because of the COVID pandemic. By announcing a completely digital submission, MAP were still able to hold the competition whilst keeping within social distancing and safety guidelines. And for the first time, the competition was opened to include all children globally, rather than just children from mangrove nations. This year's competition had 350 entries from 34 countries and includes some brilliant artwork of mangrove trees and wildlife, underwater scenes and mangrove villages.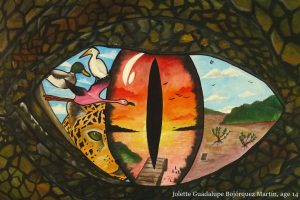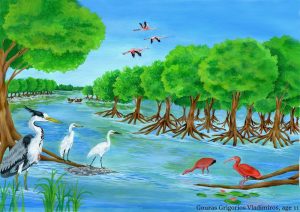 Participant Adi says 'My Grandma tells me stories about the Sundarbans, a huge mangrove forest in West Bengal, India. It's a beautiful place where humans respect the jungle and its animals. I have made this drawing taking inspiration from my Grandma's stories'
Partner organizations such as Save Maldives, CiNVESTAV-Mexico, BEDS-Bangladesh and CMCN-China, helped make this year a big success. We also reached a new audience through our growing social network and by publicizing the event online.
Participant Sreeparna says 'I find this competition a wonderful way of encouraging children all over the world to know more about the mangroves!'
A massive thank you to all organizations, teachers, students and families who took part this year. It's great to see the huge appetite of young people looking to nature and mangroves for inspiration. It's great to see the willingness of so many young people to take an interest in mangroves and nature in general and to take part in the competition.
Take a look at the entries and winners of this year's competition here: https://mangroveactionproject.org/childrens-mangrove-art/
The incredible artwork has resulted in one of our most beautiful calendars to date. All proceeds from calendar sales go towards our mangrove restoration efforts…visit our shop to purchase one today: https://mangroveactionproject.org/shop/2021-map-mangrove-art-calendar/