Using online trainings to expand real-world impact
In the summer of 2020 MAP's Executive Director and lead CBEMR trainer, Dr. Dominic Wodehouse, ran a six-week online workshop for various field staff of World Wildlife Fund (WWF), with the aim of building their capacity to restore mangrove ecosystems.
The workshop included at least 35 of WWF's staff from more than 10 offices around the globe (including Pakistan, Brazil, Mexico, Indonesia, PNG, Kenya, Tanzania, UAE, Vietnam, Mozambique, Cambodia, Malaysia, and India), focusing on a variety of topics ranging from mangrove benefits (both obvious and obscure), to the underlying science of mangrove biology and ecology, to an overview of proper restoration techniques.
Though mangroves have gained a newfound spotlight in the global conservation movement over the past decade and a half, many previous attempts at restoring these valuable but heavily degraded ecosystems have failed, largely due to a lack of understanding of underlying ecological and social pressures. Unlike terrestrial forestry, mangrove planting initiatives around the globe have met an unfortunately high rate of failure. In response MAP developed the 'Community-Based Ecological Mangrove Restoration' (CBEMR) methodology, which promotes the facilitation of natural regeneration – the philosophy that if the underlying ecological and social pressures of degraded mangrove areas are addressed, the forest will return under its own capacity. There are numerous benefits to this approach, including a more biodiverse mangrove forest and a more holistic solution that includes all relevant stakeholders in the process – from governments and NGOs to local communities.
While MAP has previously run CBEMR training workshops in a dozen countries for various groups and entities, the COVID-19 pandemic forced things to move online, opening up a new avenue of possibilities. While on-the-ground and site-specific demonstrations are preferable for a deeper understanding of local mangrove ecology and community needs, introductory online trainings open up possibilities for including more management and field staff in various locations simultaneously. A welcome addition sees large numbers of people being able to join from different countries with little carbon emissions and without the expense and time spent travelling, but the opportunity for field studies or hands-on practical experience will have to wait. WWF, which is a partner along with MAP in the Global Mangrove Alliance, will now have an increased capacity to better implement mangrove restoration techniques in their various countries and sites, with participants in the workshop saying that the knowledge gained will impact and improve their future mangrove projects.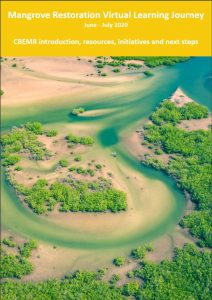 MAP and WWF are planning quarterly calls to check in and monitor progress following the workshop. Likewise, individual offices are able to reach out to directly to MAP personnel for further advice or consultation on specific project areas, and for general networking purposes.
Through introducing these online training programs, MAP aims to expand the domino effect of its programs, through enabling partner organizations, governments, and communities to undertake more successful mangrove conservation and restoration programs globally.
MAP's next online CBEMR workshop, conducted for the US Forestry Service, is planned for early 2021.