MAP was thrilled to be involved in the Royal Botanical Garden, Kew and Botanic Gardens Conservation International (BGCI) online conference, "Reforestation for Biodiversity, Carbon Capture and Livelihoods," at the end of February. The conference brought together expertise to discuss and question the best means of moving forward in successful reforestation for the planet and for human wellbeing. This conference was in part due to the rise in risky large-scale tree planting strategies being presented politically and socially as an easy answer to the sequestering of carbon emissions.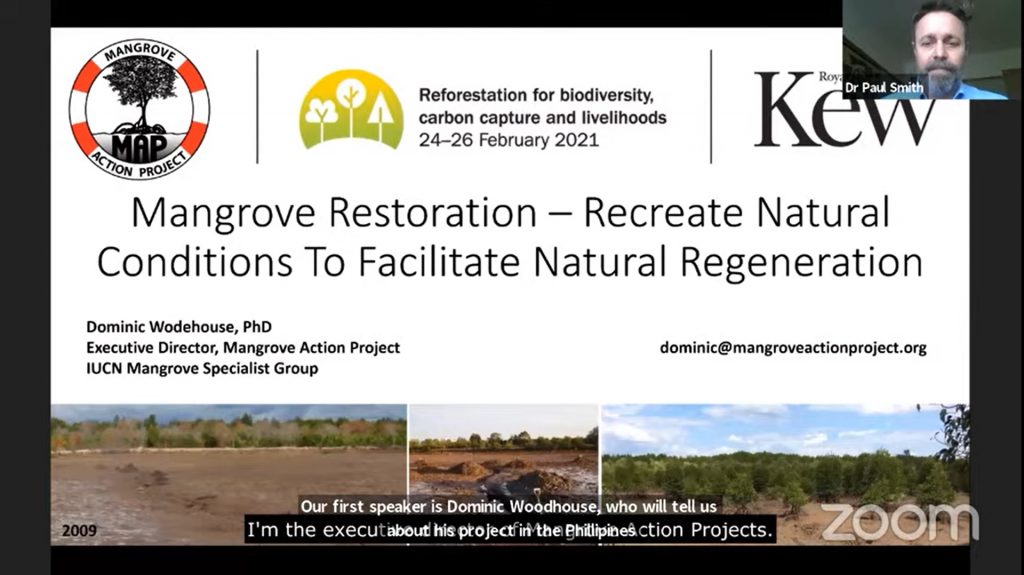 The CBEMR training done by MAP is a successful means of reforestation that moves away from the mass plantings of mangrove propagules. Planted nursery mangrove seedlings only have a 10-20% survival rate and often lack biodiversity. CBEMR training works to involve science and local communities to have a successful natural reforestation. To demonstrate this, Map's Executive Director and lead CBEMR trainer, Dr. Dominic Wodehourse presented on a case study in Ban Talae Nok in Ranong province, Thailand.
In 2009 MAP worked with local villagers to restore a private agricultural pond back into forest. This was done by removing the pond walls and regrading the area to restore the local hydrology and soil conditions. By 2016 the land parcel in Thailand became a healthy mangrove forest with the monitoring of the local community. MAP has found success in restoring mangrove forests, with limited replantings, when the land is returned to the appropriate natural conditions for mangrove growth.
The entire conference can be found online for free here. To view Dr. Dominic's presentation found here, watch from 4:22 to 10:00 on the video.